Discover more from Ringo Dreams of Lawn Care
A newsletter about music-listening and music-making and how technology changes the culture around those things.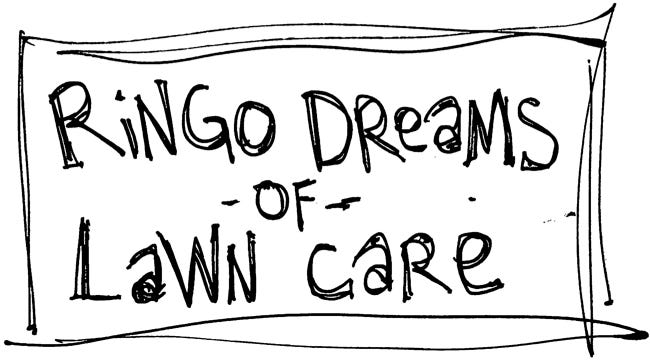 Hi! I'm Michael Donaldson, and I write about music on 8sided.blog, license and publish music through 8DSync, and make music as Q-Burns Abstract Message. I think about music all of the time. My guess is you do, too.
This is the third episode of Ringo Dreams of Lawn Care, a newsletter loosely about music-making and music-listening and how technology changes the culture around those things.
I'm creating a theme song for each episode and, I must admit: I pulled unreleased bits from the hard drive for the past two episodes. This one — titled "Outcomes" — is another previously unheard piece of studio detritus. As I settle into the newsletter routine I'll start creating tunes specifically for these episodes. That's exciting and, I must confess, a tad frightening. Until then, here's "Outcomes," and I hope you enjoy this newsletter.

------------------
If this newsletter was forwarded to you or you're reading it online then I'm happy to invite you to our squad of Ringo-philes. Please consider subscribing to the newsletter by clicking the handy button. You can always unsubscribe via the link at the bottom of each email if you change your mind.
------------------
At the beginning of the week, I ran across The Perfumed Garden, a blog collecting recordings and playlists from episodes of John Peel's celebrated long-running radio show. The tracklists are fascinating on their own. They serve as trapped-in-amber snapshots of what was musically 'cool' that particular week of that specific year. Also, the shows from the late '70s and early '80s inspired listeners who later formed more than a few beloved UK bands. John Peel was who they were listening to. This influence remains enormous, and it's fun to examine these roots.
Where will we look in thirty years to find the musical zeitgeist of today? Is there anyone like John Peel, collecting and noting songs for enthusiasts to study thirty years from now? I imagine there are tastemakers across genres with a similar influence — not only in underground rock and dance, but also in hip hop, in Indian music, in jazz, and so on. But I fear they're making streaming playlists — ephemeral lists of what's moving the present culture, but inaccessible to those studying music's past.
The day after I was thinking about all of this, the news came from everywhere that Andrew Weatherall died. I'm assuming most of my readers know of Weatherall and, like me, are saddened by this news. If you'd like a refresher of his remarkable career, read some of these moving memorials. (Each word at the end of that sentence is a link.)
Weatherall was an X's X, where X could be several things: a producer's producer, a DJ's DJ, a remixer's remixer, and so on. If one of those Xs was your trade, then chances are you looked up to Andrew Weatherall as one of the best in the discipline of X.
And I did think about Weatherall, the tastemaker's tastemaker, while I was falling deeper in the John Peel rabbit hole. Weatherall was the first name that came to mind as Peel's worthy successor. It's not an original thought — upon Peel's passing, there was a campaign to give Weatherall the historic Radio 1 slot. But as Weatherall told Dazed & Confused (recounted by Greg Wilson in his lovely remembrance): "The curmudgeon says I'd rather be the one Andrew Weatherall than the second John Peel."
On Twitter, Joe Muggs requested that we don't solely remember Weatherall as "the Screamadelica guy." He unarguably was so much more — for example, the first track on this posthumous single, released yesterday, is stunning — but I'd like to focus on a remix Weatherall did for that Primal Scream album.
I first heard the 'A Dub Symphony In Two Parts' version of "Higher Than The Sun" when it came out in 1991. Primal Scream were not on my radar, so it probably came to me as a radio promo (I was a college radio music director and listened to everything). At the time I was dabbling in electronic music production with a few basic pieces of gear. I was mostly (badly) emulating beats and loops found on the instrumental mixes of hip hop 12" s from the likes of Public Enemy, Black Sheep, Erik B. and Rakim …
In my world, this 'Dub Symphony' changed everything. It presented the remix as nearly untethered to the original, artistic branches sprouting from the seed of someone else's creation. There was nothing else like it.
I was already obsessed with The Third Mind, a book and concept developed by Brion Gysin and William Burroughs that encouraged combining random, unconnected elements to summon undiscovered inspiration. I interpreted Weatherall's style of remixing as a producer's version of The Third Mind. Weatherall's 'Dub Symphony' helped me — and many others — approach the act of remixing as almost mystical, a long-distance collaboration.
I don't have a whole lot of original music to show for my own long and storied music career. But I've got a ton of remixes under my belt. I fell in love with remixing — fell in love hard — and most of the time, that's all I did in my studio. For better or for worse, I can thank Andrew Weatherall for that.
------------------
A side note: when I'm consulting music-makers, I always mention 'the punk rock dream.' The phrase refers to how, as a punk rock kid, the prospect of self-releasing, worldwide distribution, and instant networking was like a dream to me. And now we're living it. My colleagues are sick of hearing me spout this phrase which I thought I might have coined. But then I ran across this Weatherall quote in The Guardian as I read a bunch of his older interviews this week: "Here we are at the apex of the punk-rock dream, the democratisation of art, anyone can do it, and what a double-edged sword that's turned out to be, has it not?" Did I somehow crib that from The Guv'nor, too? I suppose I shouldn't be surprised.
------------------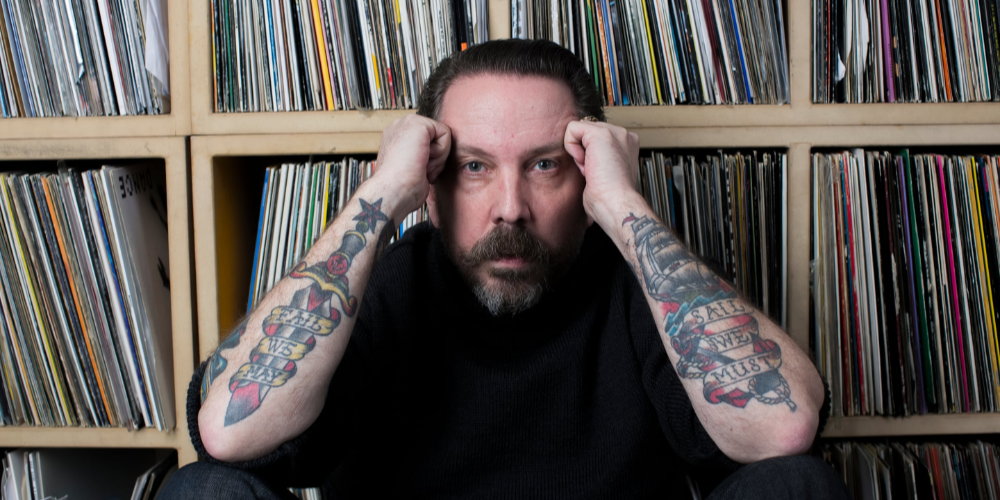 Here's a great selection of Andrew Weatherall's productions combined with wise words and tales from the man himself. This mix serves as an excellent primer if you'd like one.
Here's an archive of Andrew Weatherall DJ mixes. The number of sessions approaches 200.
Here's an archive of his NTS radio show Music's Not For Everyone. These programs verify Weatherall's ear for amazing, up-and-coming artists in a variety of genres, and why he gets mentioned alongside John Peel as an influential tastemaker. His last show aired on January 30.
And, if you use Apple Music, here's a playlist I compiled via various sources. It features Andrew Weatherall productions, remixes, and collaborations alongside tracks he played on his NTS radio show.
I'm not a fan of tattoos, but I like the ones on Andrew's forearms. They read: Fail We May, Sail We Must.
------------------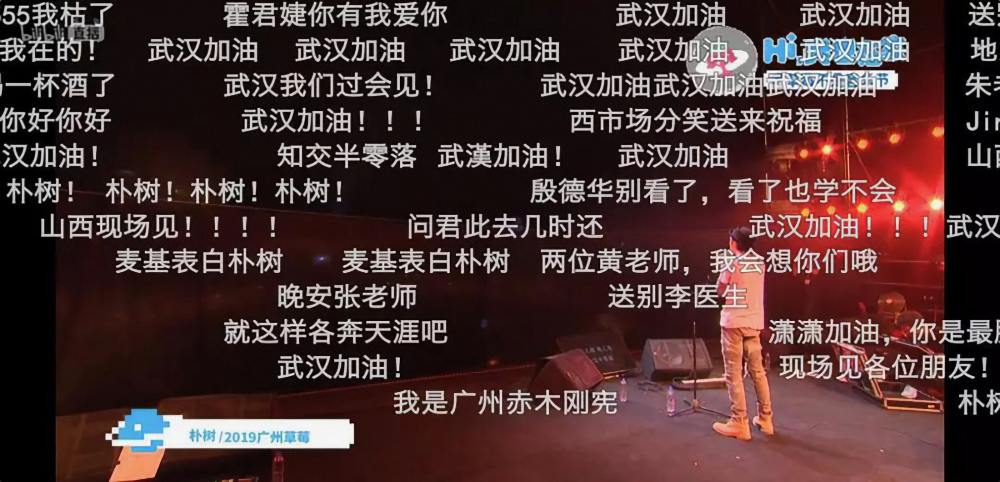 Locked in and isolated by the coronavirus, Chinese musicians, labels, and music venues are using live-streams to maintain connections with fans. This isn't a Boiler Room-like elitism, where the crowd preens behind a performing DJ star, but individual artists and bands compassionately serving their audiences online.
Since late January, there hasn't been a live concert in China, and it's likely there won't be another before April (at the earliest). The country's enthusiastic music scenes, such as the emerging punk movements written about in Hyperallergic, are organizing "live-streamed music festivals." These festivals can last for hours, even days, with feeds jumping to different bands' homes and practice spaces to stream their performances.
We could find a parallel in the virtual concerts held on Fortnite. But you've got to be a superstar to perform on major gaming platforms. China's streaming festivals are open to artists of all levels and enjoy do-it-yourself hardscrabble respect.
The streaming site BiliBil is the primary tool for these festivals, and it utilizes a social feature that allows fans to comment and interact during performances. Hyperallergic describes the result: "It all feels like a goofy, DIY house party — the music is what's bringing everyone online, but the music itself is just a sideshow to the conversations and community these events are fostering."
It will be interesting to see where this goes once the outbreak is contained and public concerts resume. I bet that this moment will spread throughout music culture, lasting much longer than the virus that inspired it. Constraints and adversity are the creators of powerful movements, and I have a feeling this DIY fan-serving approach to online festivals is here to stay.
------------------
Here's a curious story that combines some disparate interests: nostalgia for the golden age of the personal mixtape, an uncanny coincidence over two decades in the making, and an artistic warning about the garbage in our oceans. A teenager on a Spanish isle family vacation in the '90s loses a mixtape. It's recovered on a beach many years later by a British artist who creates statements about the plastic pollution in the seas. The former teenager, 25 years older, happens upon the touring Sea of Artifacts exhibition. And there's her mixtape.
This loops back to last week's topic of vinyl as an environmental hazard and how streaming doesn't provide a green solution. Despite a shift of music ownership to the intangible, yesterday's mixtape is tomorrow's discarded cellphone. However, the phone won't be as easily identifiable by a former owner when displayed as a work of art.
------------------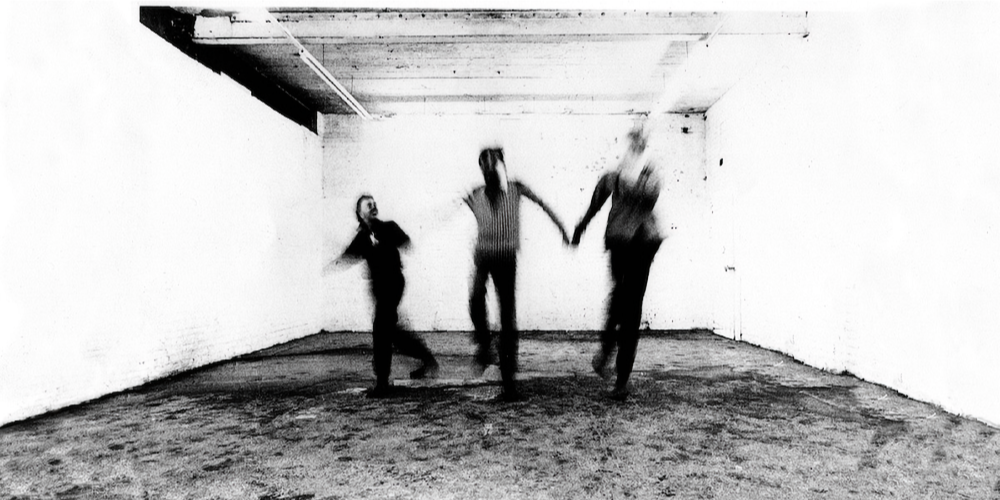 John Peel played This Heat — he debuted the band's demo tape on the radio in 1977. And I'm sure Andrew Weatherall played them, too. Kindred spirits, no question.
This Heat were part of the UK post-punk ground zero, forming in 1976 and releasing their confrontational, statement-making first album in 1979. The trio included a non-musician visual artist and heavily featured the use of tape loops and sonic manipulation in the context of heady rock n' roll. The band is both influential and under-appreciated, a tricky and frustrating balance.
1981's Deceit opens with the just-over-two-minutes "Sleep." Inspired by Weatherall's 'Dub Symphony' and its offshoots, I tried my hand at remixing "Sleep." Armed with a Tascam 4-track and an Ensoniq Mirage, I hand-triggered the opening vocal bit from This Heat's song, recorded a likewise hand-triggered breakbeat (tbh I hadn't figured out MIDI yet), and then added a Juno-106 bassline and melody. It ended up a ramshackle out-of-sync mess. But this was my first remix and, from then on, I was hooked. Let the long-distance collaborations begin.
Except for a live album, this Heat's discography isn't streaming in all the places you might expect. But you can listen to their short but impressive discography via Bandcamp. The excursion might even inspire a remix of your own.
------------------
Whew, I did it — three weekends in a row! This episode was especially difficult to put together, so I thank you for reading. I hope you're enjoying the direction this newsletter experiment has taken.
I would love your feedback. Let me know what you think, if you have a question, and if there's something you'd like to see in a future episode. You can learn more about me, what I do, and contact me with your comments here.
If you enjoyed this newsletter and know someone who would like it then please pass it on. When my work is shared with friends of friends it means more to me than almost anything else.
Thanks again for reading! See you — perhaps! — next week. 🚀